User testing in store
Djamila Belgaid
2/2/2022 11:00:00 PM
Geta has worked with Skeidar some time, with excellent results. You can read more about that here.
Based on the experience from Black Week, it was clear how the online and physical store are closely linked. You can read more at ehandel.com how Skeidar tripled it's turnover during Black Week in November compared to last year.
Not surprisingly, many shoppers in the store had previously looked online. And vice versa - those who shop online have often been in the department store and looked at the furniture in advance.
Skeidar has a strong focus on omnichannel, and they see the importance of including the entire organization in the processes, with a close collaboration between department stores and digital channels.
A good collaboration
Our team in Geta contributes with advisory, design and development. When working with new solutions for our clients, we want to test them. We can gain a lot of insight from the traffic on the website, and we have some assumptions about the customer's behavior. A real user test will always confirm or disprove our hypotheses.
We have been working with Skeidar to map the customer journey and the interaction between physical store and online store over time. In this process, we have conducted digital qualitative interviews and user tests.
We held a workshop with their marketing department, where we worked intensively together to uncover wishes and opportunities for the future.
We were thrilled to have the opportunity to visit a department store and speak directly with the customers and learn more about what is important to them in the purhasing process.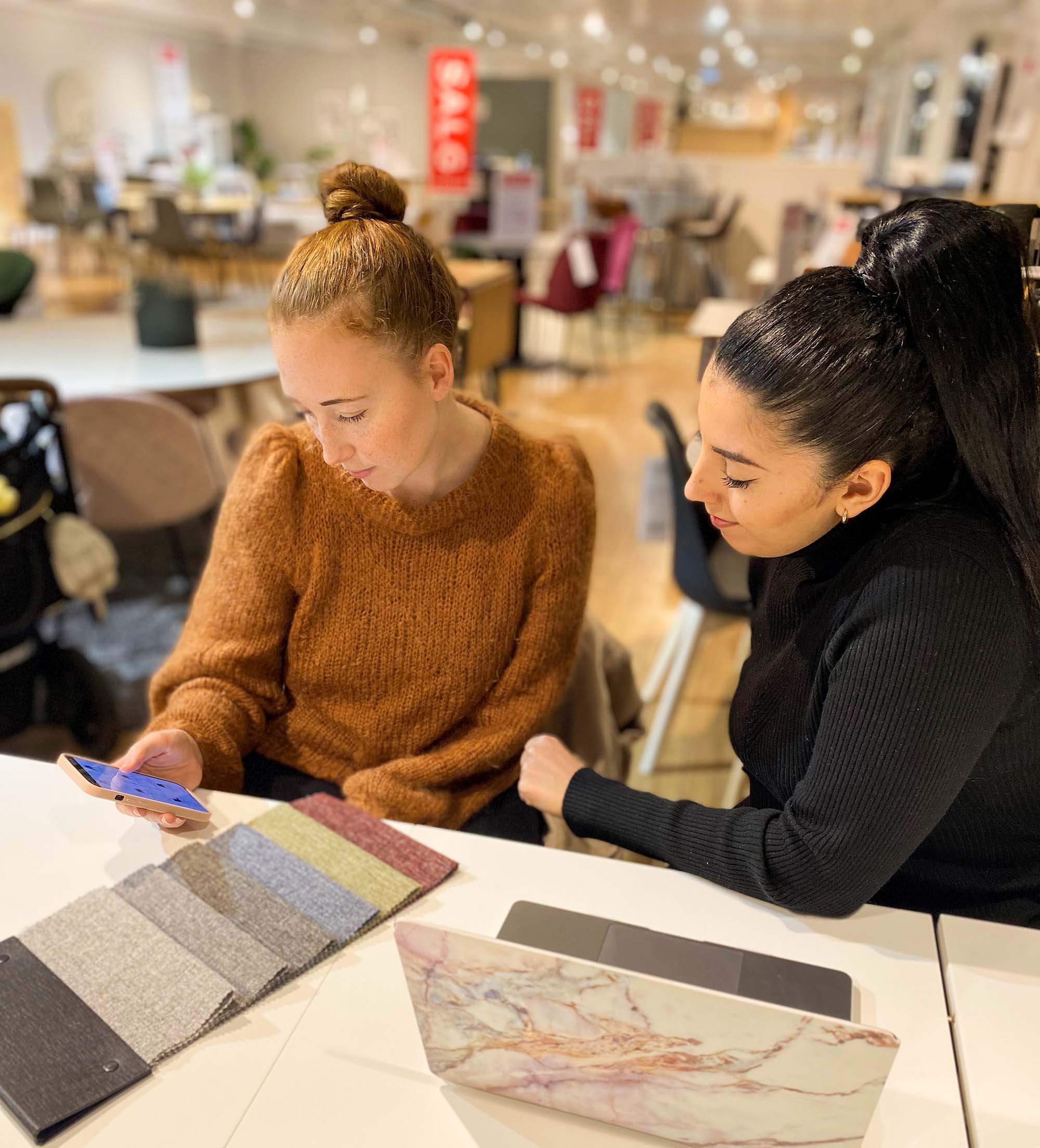 Process and user testing
As a UX/UI designer in Geta, I have a responsibility to remind myself and the team that our assumptions and hypotheses are exactly that - assumptions and hypotheses.
We therefore prepared a research question to work with. This is important to set the foundation for the study, premises for what data is collected, define hypotheses and theories and how to analyze findings and purpose.

When the research question was set, we wrote the interview guides. Since every interview is unique, it's nice to have a number of supporting questions - even though every question isn't necessarily used.
The purpose of the survey was to find out how the customers relate to the relationship between physical store and online store. What channels have they used in advance of the visit?
Have they looked at specific products in the online store? Have they looked at varieties, colors, fabric quality and the like? Through such questions, we wanted to find both opportunities and pain points that we can improve in our work to optimize the online store.
We were two people visiting, an interviewer and an observer. This is especially important as one person cannot fill both roles. The person asking questions needs to listen, explain and be present at the moment. The observer's role is to take notes, capture movements/body language and ask additional questions towards the end.
We talked to both customers and employees. With name tags in place, we were really equipped to talk to customers!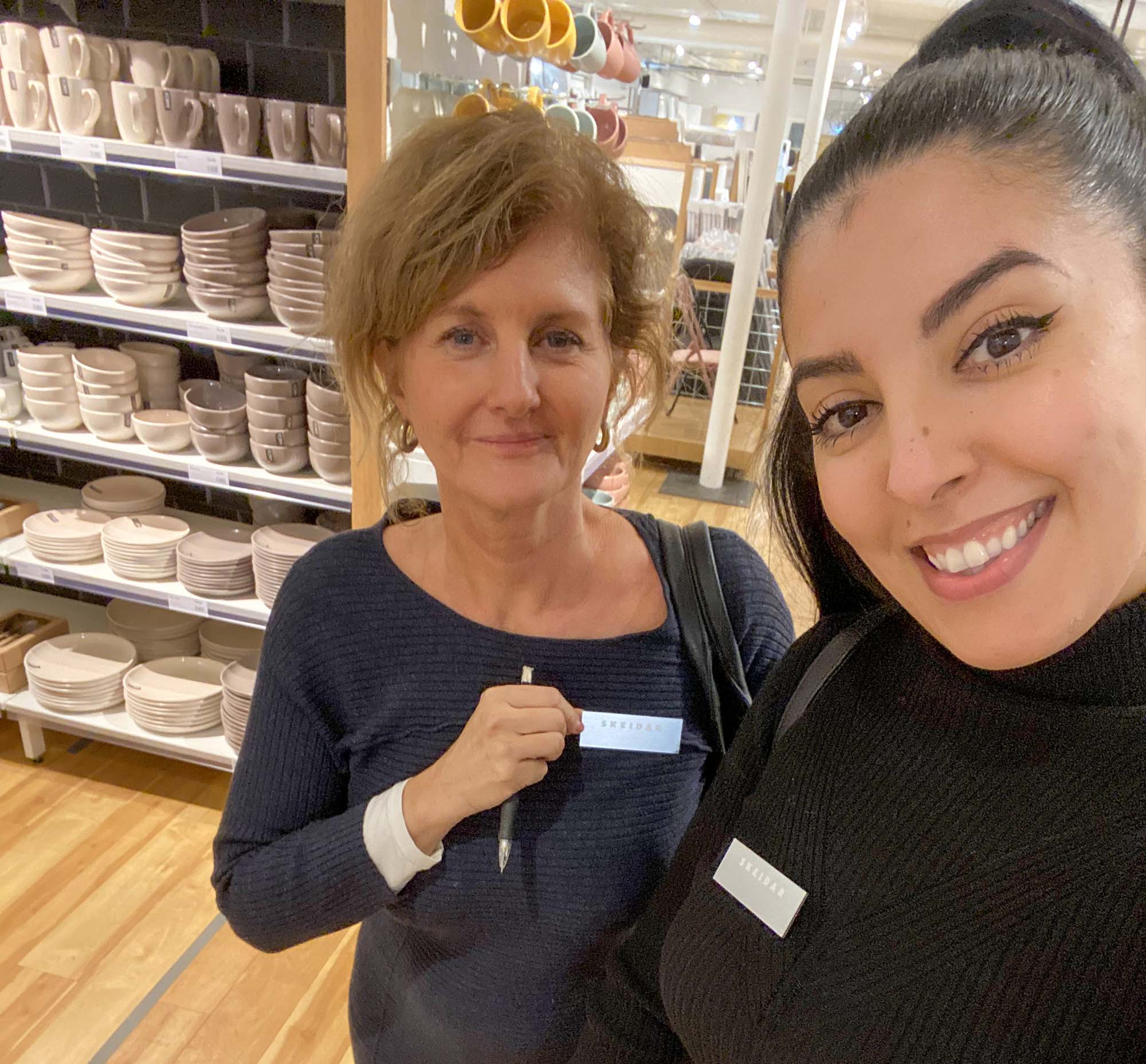 If you have the opportunity to get to where the customers are - I really recommend it. It's always helpful and inspiring to talk directly to customers and get away from the computer screen.
We were able to confirm some hypotheses - for example, that many customers want to touch and feel the products before making a purchase. This will of course vary by product group and persona.
For example, did you know that many people come to the store to test if the robot vacuum cleaner fits under the couch?
The work concluded in a report with findings and recommendations to Skeidar. With new observations and opportunities, we are ready to make the customer experience at Skeidar even better!